CookieCon 2017 is just a memory now, but I wanted to be sure and share with you about the Pre-CC classes that were offered at CookieCon, and also share the cookies I made specifically for all the events. (For a summary of the general convention, check out this blog post.
Pre--CookieCon classes were originally created at the CookieCon event in September 2015. You can read about the adventures that happened at that event HERE.
This year's CookieCrazie classes included two Going Rustic classes on Wednesday and one Adding Shabby to the Chic class on Thursday morning. (Here's a blog post with class descriptions). All of these classes happened before the actual CookieCon festivities began on Thursday afternoon.
The preparations for these classes can be overwhelming, but thankfully I had some WONDERFUL friends that pitched in and made the prep fast, easy, and fun. :) Plus, I got to go to Salt Lake City early and see a freshly fallen snow. It was gorgeous!
Lisa Provenza-Bebar was my helper for the classes, and she is amazing! Even facing a personal crisis in her life, she was determined to fulfill her commitment to me and did it with over-the-top effort. I appreciate her so much. I definitely couldn't have done this without her!
After spending many many hours getting everything ready for the classes (especially overnight on Tuesday!), it was all worth it when each class filled up with eager cookiers that wanted to learn and experience all they could. I enjoyed teaching them so much.....and I'm extremely grateful they put their confidence in me and invested in my classes.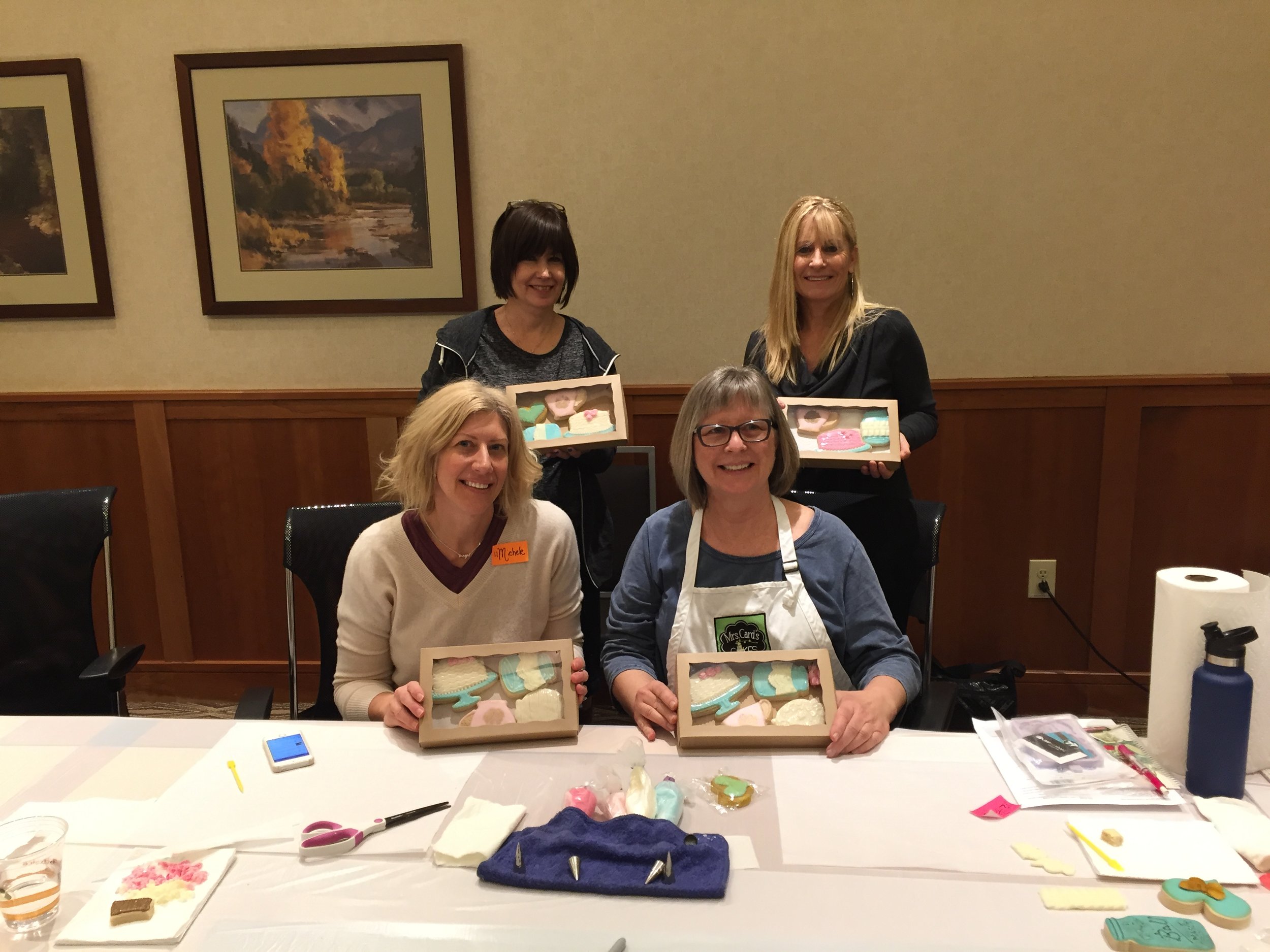 In the end, I believe everyone went away learning several new things.....and many expressed some "aHA" moments where they acquired some skills or tips that will transform their decorating.

I enjoyed every second of this decorating experience.
So once classes were over, CookieCon began.
I kind of felt like I was now on vacation. NICE!
I brought several cookies to enter into the Sugar Show.....and then other cookies to give away.
My main Sugar Show entry was in the Food & Beverage category.
I love breakfast foods.....so this seemed fitting. :)
For the Cookie Town, I created two entries....a Sweet Shop and a cute brick house.
Everyone at CookieCon received custom cutters made exclusively for Cookie Con by Ann Clark Cutters. Several of us were asked to make our own versions of these two cutters for AC to have on their website before the participants even knew they were getting them.
Here's two sets I came up.
I made some burlap BG hearts for all my students to enjoy.
And I made some fun tag cookies to share with friends.
And that's all I've got. ;)

CookieCon 2017 was a joy.....and I'm so thrilled that I could participate in many of the events.

I highly recommend going in September 2018!